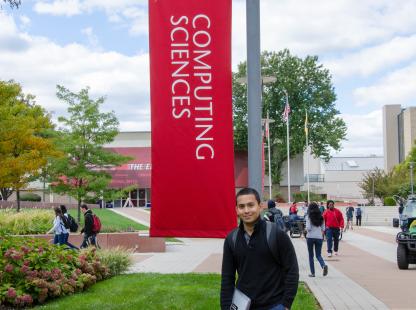 What Our Students Think
What Our Students and the Industry Think
"NJIT was a clear and easy choice for me back when I was looking at and evaluating schools. Its Information Systems degree program, which it  was one of the first in the nation to be accredited in, excelled in  focusing students to learn not only about the history and details of  technology, but more importantly, its applications and impacts in the  worlds of both business and the general community. I attended NJIT to  prepare myself for the business and technology world. With the help  of my professors, staff, and experiences such as within the Student  Senate, I left with not only that, but also a preparation to be a  better and more aptly involved member of society."  
Michael Mielczarek
Senior Associate, Strategic Initiatives
Smith Barney Technology
Citi Global Wealth Management
---
"The best thing I have found at NJIT is professors who actually care about their fields and the classes that they teach.  They often include their own projects and experiences allowing you to see what goes on in the real world instead of plain classroom lectures. Living on a compact campus is really convenient because you don't have far too walk for classes and you see your friends and classmates more often."
Nate Laws
IS Major
---
"In order to be best prepared for a career amidst the ever-changing landscape of Information Systems, I knew that a strong educational foundation was necessary. My choice of NJIT, with both an exceptional faculty and a curri-culum that reflects the latest the Information fields have to offer, … and, indeed, has given me more confidence in my future by the day."
Michael Tuccillo
IS Major
---
"The most important resources within the IS program at NJIT are the professors. They know you by name and provide insight on real life Information Systems scenarios. The reliability and consistency of their approach supported me in my educational growth."
Raymond Benoit
IS Alumnus
---
"Participating in the MS program at NJIT was a great experience. The program challenged me to further my knowledge and skills through the proficiency of the instructors and the interaction with my classmates. I have been able to apply what I have learned to my personal and professional life successfully. This program has been everything I had anticipated and more..." 
Umar Qasim
MSIS graduate
---
"I came to NJIT from Europe with a background in computer science. What I enjoyed here in the first place was a very open-minded and supportive environment, and an enthusiastic dedication to knowledge. The MS IS program offered courses on an impressive array of topics covering advanced computer science, information systems, management, etc., with the latest state of the art in each discipline. I met remarkable people from all over the world, and professors brought in expertise both from academic research and from their practical experience in the industry. This openness infused me with a great sense of opportunity and excitement about the future. On one hand, it helped me to attain an overarching understanding of the world we live in, in which the human and strategic impacts of Information Technology increasingly shape the economy and our lives. On the other hand, I also acquired the skills to design and implement systems that don't simply work, but that truly enhance humanity's experience and capabilities. In short, the MS IS program gave me the vision and the technical skills to make my contribution to a better world." 
Samuel Vilain
Software Engineer
Siemens Building Technologies, Fire Safety Division.
---
"NJIT's IS, CS and EE departments provide training in virtually every technical skill necessary to support the information technology of the modern organization. All these courses are available to the IS Masters Candidate. The IS department also adds the managerial techniques to understand not only how to build a database, but whether such a database should be built and how to build the inter-department consensus necessary for its completion. It is a near perfect program to prepare a Manager to represent the technology department at the highest levels of an organization."
Derek Linebarger
Director of Technology
Robbinsville Public Schools
---
"NJIT's MSIS distance program has made it possible for me to continue to work full time in Michigan while getting my Master's degree.  Having the flexibility to fit the same coursework around my demanding work schedule as is done in traditional classrooms is invaluable.  I really appreciate the opportunity that NJIT's distance program provides."
Steven Miller
Systems Analyst
Michigan State University Federal Credit Union.
---
"The graduate coursework in Information Systems at NJIT provides a greater flexibility in allowing the students to choose the courses related to business and IT, which not only helps in giving a jump start on our career but also improves and sustains our marketability to a greater degree. With some moderate skills in IT, the Information Systems program at NJIT has made me more confident to step into the business world with the right combination of technical and managerial skills. This would not have been possible without the guidance of the professors who are really knowledgeable, encouraging, helpful and keenly devoted to set up the potential in students for problem-solving and generating innovative ideas."
Nithya Raman
Business Analyst
Deutsche Bank, New York
---
"Coming from a computer applications and finance background. I was always interested in learning the science of designing and developing better enterprise level information systems. At NJIT, The field of information systems is taught from a highly technical and statistical perspective. It instigates you to think "Out of the Box" and systematically. It has really encouraged me to apply for the PhD (Information Systems) program. I specially enjoyed the course on Business Process Innovation and Enterprise Architecture. Taught by Prof. George Widmeyer and Prof. Michael Recce respectively. The courses where highly interdisciplinary. They involved on one hand, good business domain knowledge and on the other hand, solid technical know-how."
Murtaza Lukmani
Database Operations Coordinator
Database Marketing and Analytics Services.
Bristol-Myers Squibb Company. (BMY)
---
 "The Masters of Information Systems at New Jersey Institute of Technology has both helped prepare, as well as, challenge me to address a wide variety of Information Technology concerns in the development of Emergency Preparedness Information Systems. I would highly recommend the program for students interested in cutting edge technology who would like to make a difference in today's dynamic computing environment."
Jon Morgan
Owner,  Morgan Applied Technologies
---
"Having completed my MS degree in IS at NJIT not only made me technically sharp but also made me aware of the social, behavioral and economic aspects of software development. The training I received at NJIT is helping me enormously and provided me with a solid foundation in managing software development projects at my organization. The Information Systems program at NJIT is a well structured program that will teach you the latest and future technologies as well as the interaction of technology with organizations and society. The distinguished professors at NJIT  Information Systems program were top of their fields and always accessible."
Sreekumar Cheramparambil
Technical Specialist, UPS
​What the Industry Thinks
"In today's competitive global business environment, it is important that a company differentiate itself from the competition. To do this, companies are required to understand what they know, what their customers needs are, what the competition is doing and have the ability to clearly analyze where they can add value.
Information Systems play a major role in enabling a business to know its current situation and to visualize the future. In order for a company to take maximum advantage of their information systems capabilities to differentiate itself from its competitors they must have an IT workforce that understands the business methods and processes to do so.
The BS and MS in Business and Web and Information Systems that NJIT is offering is a great opportunity for companies to recruit information system technologists that understand a business information systems as well as the business environment that it operates in." 
John M. Lacontora, Ph.D.
The Boeing Company
---
"Technology has left the back rooms of today's corporations and is now a central consideration in virtually all daily operations and strategic initiatives. This shift has highlighted the need for employees that not only understand the underlying technologies, but also have the business knowledge and acumen to bridge the historic gaps between management and technology. Whether planning your career and deciding on a bachelors program or looking to enhance your existing experience and knowledge through a master's degree, the Business and Information Technology programs at NJIT will help you build a career that meets a need that grows more critical with global economy and strategic partnering."
James Markulic
Senior IS Consultant
---
"Lack of Business and IT alignment is a top concern of both CIOs and CEOs and has been a very difficult challenge to overcome. To succeed in today's corporate environment, employees will need a breadth of knowledge and capabilities and not simply a unique specialization. Technology has progressed to become an integral part of all business processes and its effective utilization requires an understanding of both business and technical aspects. The new Business and Information Systems degrees offered by NJIT are uniquely suited to provide students with both the technical capabilities and the business knowledge that are essential to allow them to provide true value as soon as they are hired. Graduates will be in great demand and will be called upon to provide the technical and business leadership required to solve these complex challenges."
Jerry Casarella
Chief Information Architect, PSE&G